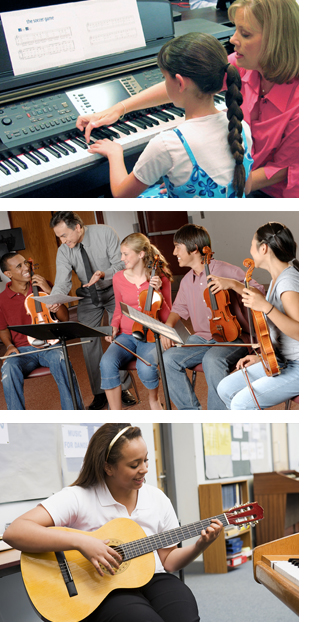 We have an extensive referral list of professional teachers for violin, viola, cello and many other instruments.

We offer in-store private lessons for the following musical instruments.

Please call these teachers directly to make arrangements for lessons.

Piano
Sharon Collins
(562) 439-0490
(562) 941-7303
Cynthia Swanson (562) 598-9592
Dorcas Gazelle
(562) 941-7303 (will teach Recorder also)

Guitar
Jim Fagen
(562) 596-9325
(562) 429-8623
Michael Nigro
(562) 221-5430 (classical guitar specialty)
David Isaacs
(562) 760-3296 (classical guitar specialty)
Bass
Dave Deforest (562) 421-4989

Cello
Manon Robertshaw (562) 896-3336
Diana Parmeter (562) 212-1872
Alicja Bianquart
(562) 897-2610
Voice
Kendra Vuk
(562) 972-7554
We offer affordable GROUP LESSONS!
In addition to private lessons we offer
affordable group lessons
for beginner to intermediate students (elementary - high school age) for
violin, viola, cello and bass
.
These classes are usually limited to 6-14 students, are held on Saturdays and last approximately 50 minutes.
We offer Summer (starts in June), Winter (starts end of Sept.) and Spring (starts end of January) sessions. These classes are taught by Allan Carter, a professional violinist who plays in the Long Beach Symphony and has taught violin/viola and string classes in Long Beach for many years.
Our Summer 2016 Session will begin on Saturday, June 4th.
Please call for details.
(562) 420-9532
---

Check out our GROUP GUITAR LESSONS!

We also offer Group Guitar lessons in six week sessions and will usually start these classes every other month.
Our next session will start on Saturday June 4th at 1:30. These classes last an hour and will conclude on Saturday March 14 (six class session). The cost for this class is $90.00.
Please call for additional details and/or regestration. You are guaranteed a spot in the class once payment is made. (562) 420-9532